About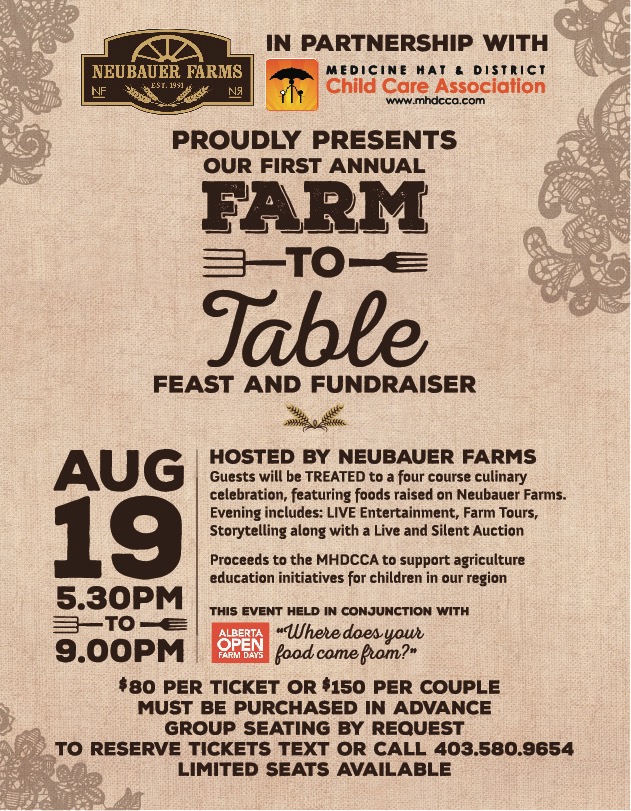 Neubauer Farms, owned and operated by Mark and Nichole Neubauer, is a mixed farming operation located just outside of the city of Medicine Hat. We grow cereals, oilseeds, forage and raise beef cattle. Mark and Nichole own and operate the original Neubauer Family Century farm. This farm was established north of Irvine, Alberta in 1910. We are very proud to say that this land has only ever been owned and farmed by members of the Neubauer family.
In 2016, The Neubauer's were honoured to receive the BMO Farm Family of the Year Award. This awards program is devoted to promoting renewed urban/rural relationships. It is given to Southern Alberta farm families who best typify the value of the family farm to our society.
Since 2005, the Neubauer Family has hosted the Growing Minds on-farm agriculture education program. Over 12,000 students from Medicine Hat and surrounding area have visited the farm to learn where their food comes from.
The Neubauer's also offer the region's only Community Supported Agriculture program to approximately 30 families from the Medicine Hat area.
The Farmer's Creed
I believe a person's greatest possession is their dignity and that no calling bestows this more abundantly than farming.
I believe hard work and honest sweat are the building blocks of a person's character.
I believe that farming, despite its hardships and disappointments, is the most honest and honorable way a person can spend their days on this earth.
I believe farming provides education for life and that no other occupation teaches so much about birth, growth and maturity in such a variety of ways.
I believe many of the best things in life are free: the splendor of a sunrise; the rapture of wide open spaces; the exhilarating sight of your land greening each spring.
I believe true happiness comes from watching your crops ripen in the field and your children grow tall in the sun.
I believe my life will be measured ultimately by what I have done for my fellow man.
I believe in farming because it makes all this possible.
— Author Unknown